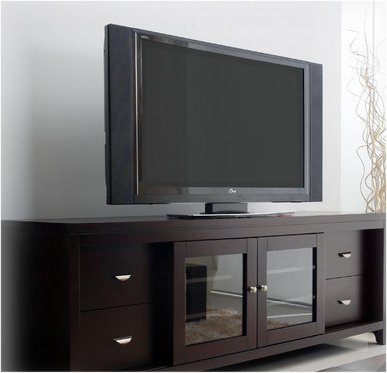 This morning was a "fun in the sun" time. Got to the pool early and enjoyed a Holiday Open House on the pool deck. It started at 10:00 and went until 1:00. Lots of crafters' tables selling handmade items. There was an area where coffee, hot cider & chocolate, egg nog, and holiday cookies were available. It was well attended. We sat in one of the few shady spots where everyone passed us. I was so busy talking with friends that I forgot I wanted to read.
We left about noon. A delivery of our 72″ TV stand was scheduled for the afternoon. It arrived about 3:00 in an enormous box. The delivery folks left it still boxed but close to the area where we wanted it. Took us quite a while to unwrap our purchase. Unfortunately the tracks that the left two drawers should have glided on had broken free of the side-wall and were loose. We immediately called the company and they acknowledged a problem.
A customer service person from the company where we purchased the TV stand made us several settlement offers. Our choices: we can either accept their $$$ offer and John can attempt to fix it, or we can get a new replacement stand (and when they deliver the second unit, they'll remove the broken one), or we can get full credit plus $100 for store credit, or we can get a full refund of our money. We're still thinking about how we'll resolve the problem. John thinks he can probably fix it. (None of the visible wood is affected) Unfortunately their offer is lower than I feel it should be. We'll see.
The photo of the whole stand is a stock photo I took off their website. Our TV is actually quite a bit larger but it fits the stand nicely. When centered, it probably is about 6″ from the ends.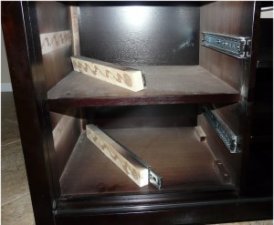 The picture at the right shows the interior of the left side of the unit. (The glare is just the flash shining against the inside back.) The two drawer areas have the problem. The light colored wood side boards with the glue line (curvy brown swirls on the light wood) are the pieces that should be holding the tracks but instead are totally disconnected.
If John can fix the TV stand so it looks and acts like it should, I'm all for accepting their offer (which will knock a substantial amount off the cost of the unit). I guess I am too lazy to want to go through having the broken unit hauled away and another one brought in to replaced it. The whole procedure made a real mess with styrofoam and cardboard pieces when it was unpacked. I sure don't want to do that again if it can be avoided. But John will need to buy appropriate repair materials and it might never work as it should. We'll have to think it over.
Comments off