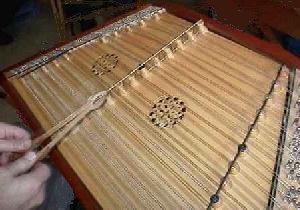 The Skaryds started playing music in 1992.
John plays the Webster chromatic dulcimer seen here. They also have an older, lovely Brazilian rosewood Webster dulcimer and Sharon's dulcimer, is a Rick Thum 17/17 Professional. They also have several other dulcimers. Sharon runs a dulcimer sales business with direct shipment from the builder to the buyer. (No, there's no showroom, but Sharon and John will be glad to have you stop by and visit.) You can visit Sharon's sales website at http://dulcimers.biz.
John also has fun playing a tenor banjo (a 1920's Bacon and Day Silver Bell) with the Flint Banjo Club, dabbles at upright bass, occasionally plays a "tenor lute" (which is over 80 years old), and has a 1928 Gibson tenor guitar in his instrument collection. Sharon's recently added a marimbula and John a baritone ukulele to their collection of instruments.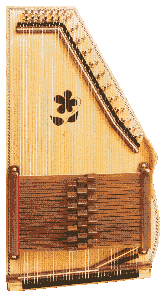 Although her first love is the hammered dulcimer, Sharon's primary instrument is the autoharp, which she uses as back-up to John's melody playing. It was built by George Orthey and it's a truly lovely instrument. (Click here to visit the Orthey's website: Orthey Instruments.)
Sharon also has a pretty 34-string cherry Celtic harp John built. (Click here to see "the harp John built" .) Recently she's started playing the marimbula and is hoping to get better on it.
You'll find the Skaryd's every year at the ODPC Funfest in Evart, MI. Sharon was the workshop chairman from 1996 to 2015. The 2015 Festival was her 20th and final year as chairman. She always said, she did it so she got to drive a golf cart around the fairgrounds. The truth was, they truly enjoyed working closely with the workshop leaders. Next year, she'll leave the organization of the massive schedule to her replacement. At the 2016 ODPC Funfest, July 14-17, look for their fifth wheel (a '94 Jayco). The Skaryds don't know when or where they'll be camped (expect them to arrive more than a week early). They will definitely be there! They'd love it if you'd stop and say "hi". You're always welcome to pull up a chair and "sit a spell."
For many years, John was the co-chairman of the Midland Dulcimer Festival. In November, 2009, after a devestating diagnosis of idiopathic pulmonary fibrosis which has greatly decreased his lung capacity, John was forced to submit his resignation from management of the Midland Dulcimer Festival which has since been revised and is now called the Midland Folk Music Festival.
For well over 20 years, the Skaryds were directors of a performing dulcimer club, Saginaw Subterranean Strings Hammered Dulcimer Club. In August 2012, they finished their 20-year run of successful summer Haithco concerts.
With their friends, Wayne and Linda Conklin, they have a performing group in their Kings Point, Sun City Center, Florida, community known as "Kings Strings." Wayne and John play hammered dulcimer, Linda and Sharon play autoharp/chorded zither, and Sharon sometimes adds a bass beat with her marimbula.
Sharon says, "If you are interested in buying a discounted dulcimer (from dulcimers.biz), but feel better speaking to a "real" person, you can reach me at 989-781-0849 or 813-727-0007. No matter where we are, these cellphones will be with us."
In the spring of 2006, the Skaryds took a 6,000 mile trip across this beautiful country. They hit about 14 states in six weeks. As they traveled, Sharon kept family and friends advised of their activities using a blog. She's continued to use this tool as a journal. You'll find it at http://sharons-blog.com. (Well over 250,000 folks annually now follow the Skaryd's activities on Sharon's blog.)
In addition to music, John enjoys gardening and wine making. Sharon enjoys anything techie, especially computers and web design. (She maintains 11 websites.) She is also an avid reader (hooked to her Kindle), enjoys photography, and loves writing.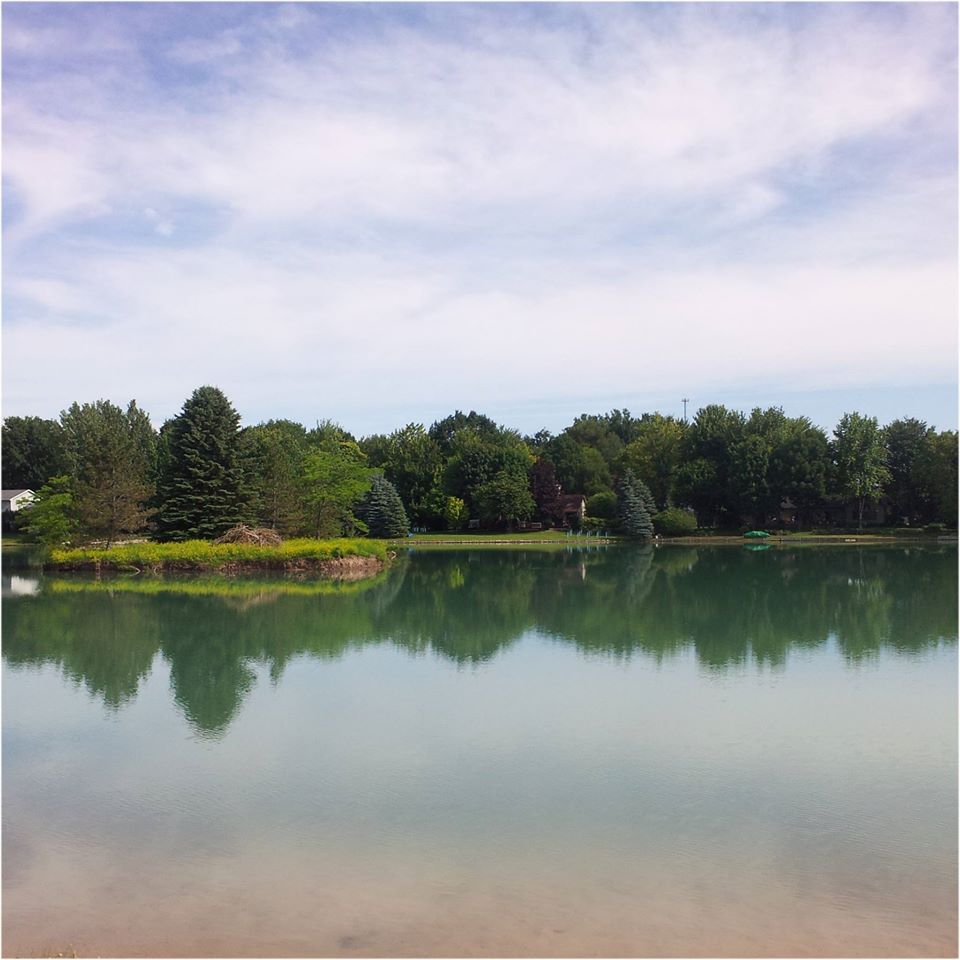 The Skaryds' Michigan home is on a pretty, small lake west of Saginaw (in Thomas Township off M-52). (The photo on the left shows view from the opposite side of lake. (Our place in middle - brown roof.)
In 2003, they began spending a lot of time in Florida caring for Sharon's mother who had alzheimers. By 2005, they were staying two or three months at a time, several times a year. In September, 2008, Sharon's mom died and they realized that Florida had become an important part of their lives. They had many friends and loved the Florida climate. On October 6th, 2008, they purchased their own Kings Point condo. (Kings Point is a gated community within Sun City Center, FL.) They're now staying in Florida more than six consecutive months and totally enjoying their "senior" years.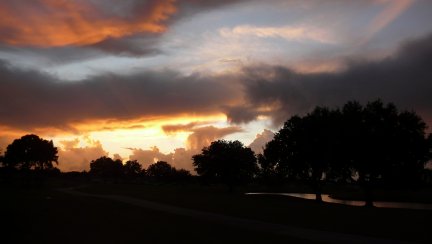 (The lower right photo of the colorful sky was taken from the back of their Kings Point Condo. You can see one of the two ponds which make a lovely view.
Note from Sharon: After reading the above summary of "The Skaryd's Life," it sounded like everything is "past tense." Not so! Yes, we've had a busy 30 years as man and wife and we're in our 70's, but we're far from done. When in Michigan, we go dancing every Tuesday (or more often, if we can find a country band). John is always occupied with the exterior upkeep of the house and I'm trying to keep up with the inside. While here in the "North," I spend lots of time on my computer where I shop, surf and run my web design and dulcimer sales business. We belong to the local Saginaw Moose Club, a monthly local senior group, and enjoy getting together with family and friends.
Some stuff has become more difficult for us. At the July 2015 festival, I broke my right wrist and it hasn't worked correctly since then which has limited housekeeping ability and John's IPF problem has taken a lot of his lung capacity but he's already exceeded the two to five year life expectancy figured for 97% of cases with his disease and he shows no signs of end of stage deterioration.
We're never bored. Since neither John's lungs nor my wrist can tolerate the cold, we both enjoy Florida from October to May and Michigan from May to October.
When in Florida, we work with the Michigan Club on parties, activities, and their website; we belong to the Oldies but Goodies Dance Club with monthly dances; the Kings Point Baby Boomers; and we take dance lessons every week. We also dance every Thursday as well as extra times, John plays banjo Wednesdays with the "Pickers" group, and we both enjoy time in the shade at the South Club pool when we aren't involved in other activities (like exercise classes). We hope to do more performing with Kings Strings. And we totally enjoy a fun group of lively friends so we're always going to parties or other social events. Life is great!