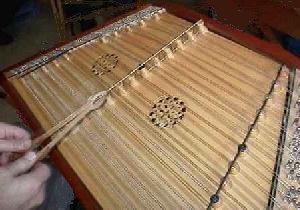 The Skaryds started playing music in 1992.
John plays the Webster chromatic dulcimer seen here. They also have several other instruments in their instrument collection.
Sharon also has a pretty 34-string cherry Celtic harp John built. (Click here to see "the harp John built" .)
For many years, John was the co-chairman of the Midland Dulcimer Festival. In November, 2009, after a devestating diagnosis of idiopathic pulmonary fibrosis which has greatly decreased his lung capacity, John was forced to submit his resignation from management of the Midland Dulcimer Festival which has since been revised and is now called the Midland Folk Music Festival.
For well over 20 years, the Skaryds were directors of a performing dulcimer club, Saginaw Subterranean Strings Hammered Dulcimer Club. In August 2012, they finished their 20-year run of successful summer Haithco concerts and closed the club.
In 2015 (after 20 years in that role), Sharon resigned as workshop chairman of the world's largest hammered dulcimer gathering, the ODPC Funfest and also relinquished the website duties. She's gradually been closing down the dulcimers.com website. The slow-down has been in a large part been dictated by John's lung deterioration. They want him to be around as long as possible but that means substituting some activities.
John still enjoys gardening and wine making. Sharon enjoys anything techie. She is also an avid reader (hooked on her Kindle), enjoys photography, and loves writing. You can follow some of her writings on her blog: http://sharons-blog.com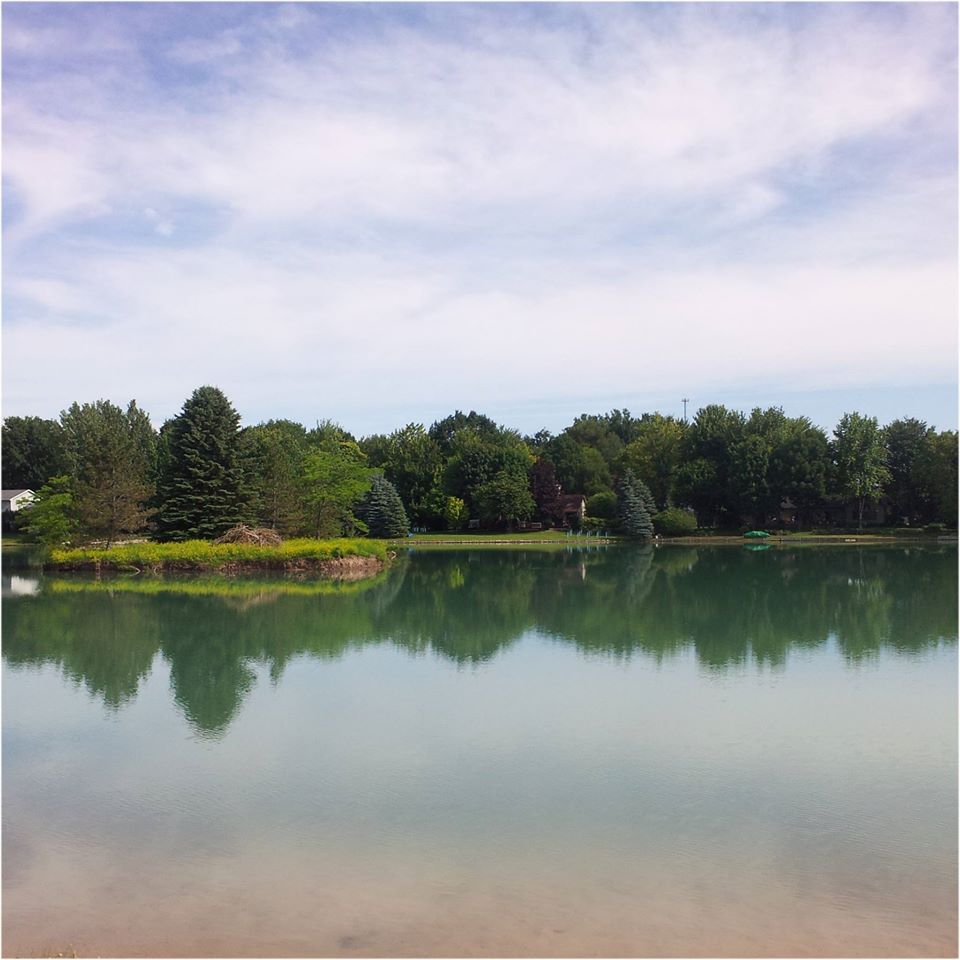 The Skaryds' Michigan home since 1986 is on a pretty, small lake west of Saginaw (in Thomas Township off M-52). (The photo on the left shows view from the opposite side of lake. (Our place in middle - brown roof.)
On October 6th, 2008, they purchased their Kings Point, Sun City Center, condo. (Kings Point is a gated community within Sun City Center, FL.)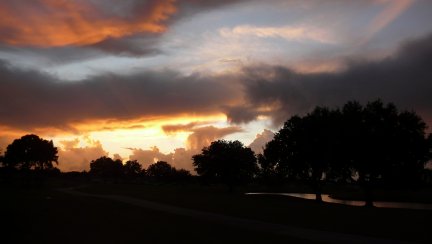 The lower right photo of the colorful sky was taken from the back of their Kings Point Condo. You can see one of the two ponds which make a lovely view. Eventually it'll be their full-time home.
John's IPF problem has taken a lot of his lung capacity but he's already exceeded the two to five year life expectancy figured for 97% of cases with his disease. He's now on oxygen 24/7 but he's passed his 8th year.
Since health care is excellent in Florida and John's lungs can't tolerate the cold, they both enjoy Florida from October to May and Michigan from May to October and hope to make it their full-time home after selling their Michigan residence.
They are totally enjoying their "senior" years. When in Florida, Sharon works with the Michigan Club as an officer and on parties, activities, and their website; the Kings Point Baby Boomers; and attend exercise classes and tai chi classes. They also attend a gathering of friends every Thursday as well as extra times, John sometimes plays banjo Wednesdays with the "Pickers" group, and she enjoys time in the shade at the South Club pool when not involved in other activities.
Most important is the fun group of lively friends so they're always going to parties or other social events.
Sharon says, "Life is great! I love my time with my sweet husband of nearly 32 years."