ODPC FUNFEST
(World's Largest Hammered Dulcimer Gathering)
Here is festival Information: Because all work is done by volunteers, the festival is able to charge a very reasonable $5 gate fee. All workshops, the program, stage shows, and other festival activities are included for that one price. Camping for 2013 was $17 nightly and will probably be close to that price in 2014. The Osceola County Fairgrounds, Evart, Michigan, is the site of this fabulous event.
The O.D.P.C. or "Original Dulcimer Players Club," which puts on the festival, is the largest and oldest hammered dulcimer club in the world. The "original dulcimer" from the club's name means the "hammered dulcimer." The purpose of the O.D.P.C. is the preservation and promotion of the "hammered dulcimer." It's that focus which makes the festival unique.
Please check the Frequently Asked Questions area for answers to all of your questions (i.e. reservations, what instruments are allowed, what you'll need to bring, etc.) One question that is frequently asked is "How can you tell when the festival will be held next year?" It always starts on the Thursday before the third full weekend. It'll was July 18-21, 2013, and looking ahead to next year, it'll be held July 17-20, 2014.
Brief Statement of Festival Rules:
Pets restricted to campsite. No bikes; no alcohol. Sales only by vendors except in the ODPC designated area. (Performers or workshop leaders may sell immediately after classes or performances.) No electrified instruments nor amplifiers in the campground; no band wind instruments; no woodwind instruments; no drums (except bodhran.)
The wonderful location in Evart, MI, where the festival is held, is the Osceola County Fairgrounds. Check out their website at: Osceola County Fairgrounds website
Here is their camping policy:
(The following information is quoted from their website and pertains to the ODPC Funfest) -
2013 Camping Policy for events held on the Osceola 4-H/FFA Fairgrounds:
Campsites are assigned on a first come basis with cash, credit card or check. As a courtesy, we will accept payment with a credit card by phone but you cannot call in advance to purchase a campsite. If you want to purchase a campsite with your credit card you must do it on the day you want to start paying for that campsite. There will be no pre-payments accepted ahead of time. If you have any questions or concerns, please call the fair office at 231-734-5481 - leave a message and someone will return your call as soon as possible.
The city of Evart offers lots of activities for visitors. Even after the festival, there's always entertainment in this lovely community.

---
2013 Workshop Schedule
---
2013 Stageshow Performers
Thursday, Friday and Saturday nights!
2013 Stage Show Line-Ups by Evening (also included in Program)
---
2013 Pre-Show Tunes
Golden Slippers (2xD/2xG)
Red Wing (G)
Scotland the Brave (D)
Prairie Flower (G)
Peters Kick (G) - Dee Dee Tibbits
Old Joe Clark (D)
Sophrina (G) - Les Raber
Spider on the Bedpost (D) - Rick Thum
Maple Sugar (D/A)
Hey Polka (D)
Star Spangled Banner
---
2013 Mountain Dulcimer Stage Show Tunes
2013 tunes for mountain dulcimer players:
Annette Lindsey's Music for 2013 for Thursday night stage show performance.

---
The Yahoogroups List
You may want to be part of the "email group" which discusses the festival. To learn about that group, you can go to

http://www.dulcimers.com/dulcimerslist/index.html

Here's a photo of the 2012 "Dulcimers List" members at our annual "Reception."


---

If you click on the above "seal" you'll be taken to the World Record Academy which has certified that a world record was set for the largest number of hammered dulcimers playing together on stage (197 hammered dulcimers) Friday night 2009 at the ODPC Funfest. Next year we hope to do even better. You can also see a video on that website of the whole group playing "Red Wing" or Click Here! (Pennye Scheiber did a super job leading the group which plans to have even more dulcimers next year.)
---
Previous Festival Photos
These are the photos from previous years (2004-2012). You'll see a file name for each year. When you have finished with that year hit your "back" button to get back here. You'll probably find that only the last couple of years still have the photos available.
---
Frequently Asked Questions
You probably have questions, but we think we've covered all of the answers. If not, we have several ways for you to find out everything you need to know. Why not start by reading the "frequently asked questions" (aka FAQs).
---
Here's a typical "pre-festival" jam (Sunday, July 13, 2008)
"Bay of Fundy" and "Saute De Lapin" are the two tunes (selected and lead by Cindy Simmons).
---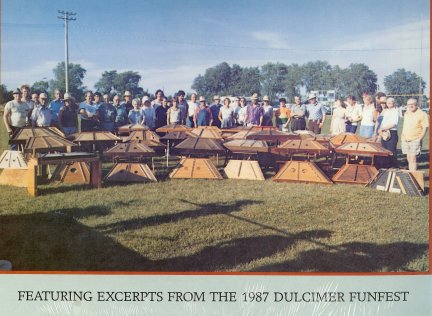 You might be interested in what the funfest bunch looked like in 1980 (which we've concluded is probably the date of this photo)!
Click on the above photo to see a much larger image, complete with names.
---
Ghost Chickens
At the 2004 event there were lots of fun goings on including an amazing performance on the last night in the Swine Barn featuring Gail Schwandt and Linda Foley:


"Ghost Chickens in the Sky"
---
If you have any questions about the festival, feel free to email me.
The first of the festival campers arrive about June 1st (more than a month before the official start. Most of us spent at least a full week on the grounds. The highest number of campers was 748 camping units in 2001.
---
If you need a place to stay for 2013 and camping isn't your "thing," check with Roger Elkins, the "mayor" of Evart before his retirement. He has a list of the local motels and hotels. E-mail him for that information. Ask for the "Motel and Hotel List". The earlier, the better. Don't delay. You can always cancel.
---
The workshops are great and the stage shows are the best, but it's the jammin' at a caliber that can't be described that makes this event truly one-of-a-kind.
Here is some music recorded live at the 2001 and 2003 Evart Funfests!! Hope you enjoy these tunes.
Recordings from 2001 and 2003
---
If all this sounds interesting, and you think you'd like to attend, or if you are an annual attendee and know you'll want to be part of the fun every year, you may want to subscribe to an e-mail "list" known as dulcimers@yahoogroups.com. The list will help you stay informed of plans for the festival and will help share information on the event.
The "list" holds a reception the Wednesday evening before the festival, which generally draws over 100 members of this group. This will be the FIFTEENTH YEAR we've held these receptions.
Click the "yahoogroups" button to subscribe to the list "dulcimers@yahoogroups.com". It's a fun, friendly year-round link to Evart festival folks and information.