Each year members of the dulcimers list are able to identify each other at the festival with an official "list button". To order your "2014" version of the button, it is suggested that you be a member of the list. It isn't mandatory, but the list members received the user name and password to be able to buy a button. (Contact the list owner (below), if you don't have it.) The buttons cost $1 and will be supplied by Ida O'Dell at the festival.

Click HERE
to order your button
BUT IF IT DOESN'T WORK TRY THE SAME PASSWORDS AGAIN!!!!

The list is a great place to have all your questions answered, and make plans for the festival. If you think you'd like to belong to this group of folks, just go to http://groups.yahoo.com/group/dulcimers/ to subscribe to the list or scroll down past the big pictures and click on the little join now the list "button."

&nbsp
Plans for the List at the 2013 Festival
Wednesday - July 17, 2013 - Time will be immediately after the cart parade - We plan to have a list reception like previous years. We'll hold it in the area fondly referred to as the "Rest Area" which is a canopy to the left of the entrance into "Tent City" (or "Vendor Alley") -- a tiny bit north from the ODPC Pavilion. We ask that everyone who comes bring a goodie or dessert. Packaged cookies, crackers, chips, nuts, trail mix, candy, corn chips, and other muchies are just fine. Intentionally we don't open all of the packages at the reception. Instead we enjoy any perishable contributions and make sure that everyone enjoys plenty. Left-over goodies will be available during the festival. It's great to know that you (or anyone) can stop by the rest area and grab a cookie or other snack to keep you going until you can find time to eat a real meal.


The above picture was taken Wednesday, July 18, 2012, at the list reception.
---

The photo was taken Wednesday, July 13, 2011. Included are all the folks who stopped by and visited with us at the annual "list reception." (Find the two members who show up twice. Maybe they were cloned.)

Here's the 2010 reception bunch.
We're folks who got acquainted at the Evart dulcimer festival and now stay in touch year-round with an email list. We have over 560 members. The discussion generally centers on the festival or other topics of interest to folks who attend the festival.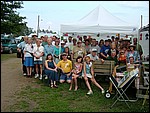 The above small photo shows one of the previous "Dulcimers List Receptions" at the Evart ODPC Funfest Festival. Click on it to see a "bigger version" which will be very, very slow to load because it's quite large.). -->
---
The Legend of the "Soap Queen"
Back about 1995, there were major complaints that there was no soap in the rest rooms. As it was explained, at one point, there had been soap dispensers, but kids had really made a mess of things, so they'd been removed, and everyone was expected to carry around their own bar of soap.
It was inconvenient, and to be honest, totally impractical because you don't always "plan ahead" to stop at the rest room, you just happen to be in the vicinity, or you're heading back from somewhere else. And it bothered us that the food preparers often used those rest rooms too. This was a major topic on the dulcimers@yahoogroups.com list.
A simple solution, was to buy soap at Fosters and put it in the restrooms (mainly the one by the Fair Board Office). Only problem was that it never seemed to "stay." The soap was therefore cut into small pieces so there'd be some throughout the festival.
After a couple of years of this routine, it came up on the list that I was "buying" soap for this purpose, and Judith as well as a few others, said they could get hotel-sized soaps when they traveled and they'd bring them to the festival. This created quite a competition. The first year it was nearly a tie between Robin Leggegowow (misspelled horribly) and Judith Lindenau. They brought their hoard of collected soaps from many exotic corners of the world. For the past few years Robin hasn't attended, so Judith has held the title .. unchallenged.
Never the less it was fun when she'd pull out her bag of soaps. We'd scramble to go through them. We voyeristically examined all the places she's traveled.
So Judith is the official Soap Queen. Of course the challenge was always there for anyone else who wanted to pit their soaps against hers, but no one could compete with with those from Tonga or Russia or Bulgaria or wherever else Judith roamed.
PS: A couple years ago, the fairgrounds had a change of heart. Probably pushed by the unsanitary situation which their "no soap" policy created. Now they have liquid soap dispensers in the bathrooms which is probably a good thing, because Judith retired and doesn't travel as frequently. She no longer brings her bag of soap but she is forever our "Soap Queen."
---
Storm of 2002
Here are some photos taken of the huge rainstorm of 2002.
Rainstorm of 2002 (first three digits, after the "p" represents date
---
Other previous year list photos:
2003 List Photo
2009 List Photo
??? year List Photo